Thermal Spraying Equipements
TSE markets and integrates the Thermal Spraying machines and equipment manufactured by TCPP. Our products are designed and manufactured in France. They are the result of many years of research and development in the field of coatings processed by dry processes (Thermal Spraying, Cold Spraying and thin film deposition under vacuum).
We operate worldwide for the integration of equipment and provide staff for training (theory and practice).
Our machines can be connected for maintenance, diagnostics and data treatment for quality service.
Thermal Spraying : quelques exemples de revêtements
Les techniques de mise en forme de revêtement par procédés de Thermal Spraying telles que la projection plasma, HVOF, flamme poudre, fil ou cordon, arc-fil, canon à détonation, Cold Spray, permettent de résoudre de nombreux problèmes d'usure, de corrosion et de dégradation thermique en fonctionnalisant les surfaces avec des revêtements sur mesure.
Ces procédés permettent la mise en forme de revêtements techniques compatibles avec les préocupations environnementales et de préservation des ressources naturelles. Le Thermal Spraying offre une gamme de revêtements attrayante qui offre un large choix de matériaux et de procédés qui ont à faible impact environnemental par rapport aux procédés traditionnels (voie humide).
En plus des équipements de Thermal Spraying, TSE offre aussi une gamme de procédés de mise en forme de couches minces sous vide par PVD.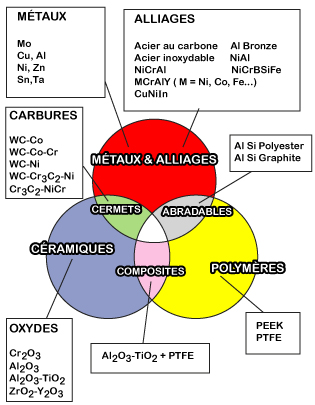 Diversité des matériaux mis en forme par les procédés de Thermal Spraying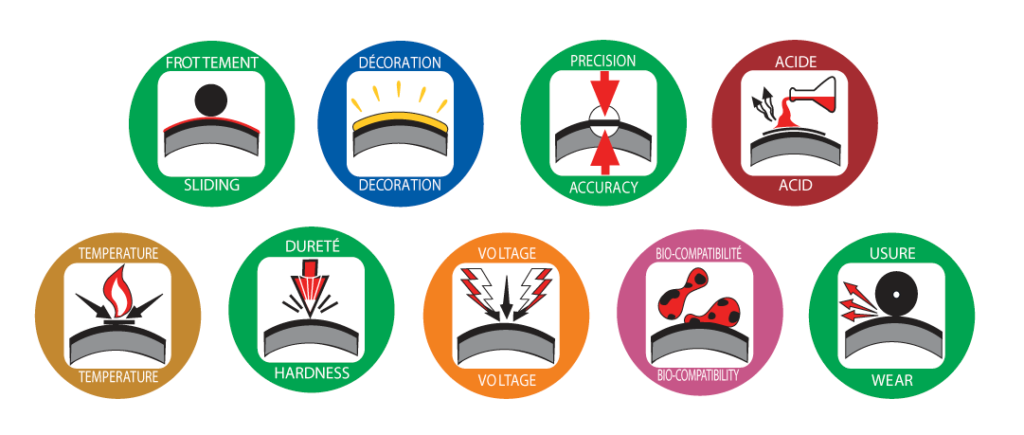 Diversité des propriétés de surface offertes par les procédés de Thermal Spraying